Stormwater Management:
Applications: (Domestic /Commercial)
Soakway Tank/ Infiltration Tank:
Infiltration/Soakway is the most preferred method of stormwater management, when downstream discharge facilities are not present, or post development runoff volume is limited.
The Rainsmart® Tank Modules are wrapped in needle punched non-woven geotextile and buried in porous permeable soil base. Rainsmart® Infiltration systems help to recharge groundwater aquifers and provide moisture for the surrounding vegetation. Infiltration/Soakway systems are EPA recognised stormwater best management practice.
Rainsmart Ellipse & Nero Tank Module system supersedes traditional gravel and pipe based systems by far. The system provides a void space ratio of over 95% compared to 30% in typical gravel and pipe based systems. Consequently, the Rainsmart system offers a smaller footprint for the same storage volume, significantly saving the amount of excavation, soil transport, importing clean aggregate and thus reducing earthworks related installation costs, and causes minimum site disruption.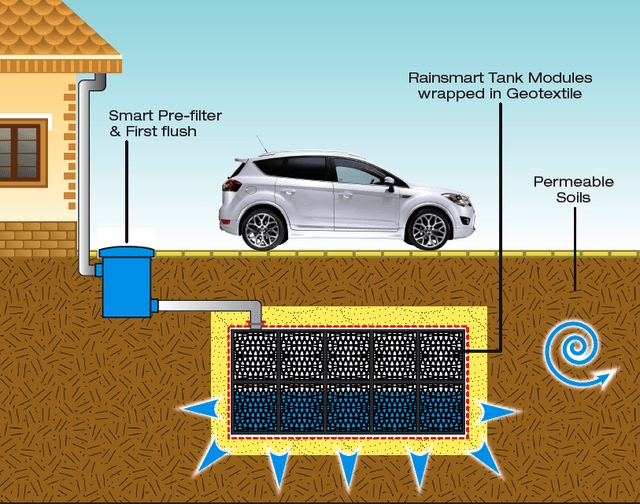 Detention Tank/ Attenuation Tank:
The recent residential and commercial development adding impermeable surface, combined with a significant increase in rainfall have resulted in the collection of surface water volumes far exceeding the capabilities of many existing sewerage & drainage systems. Rainsmart® Tank Modules detention/ attenuation system is designed to collect excess rainwater water for controlled release to the Stormwater drains via an Orifice Plate and also provides an option of slow ground release in permeable soils.
The capabilities of the existing Stormwater system can be enhanced by handling excess water over longer periods and the possibility of flooding in vulnerable downstream areas is therefore reduced or avoided.
Rainsmart® Tank Modules offers a number of advantages over others. It can be used both for stormwater and grey water effluent, it is very cost effective and even the largest installations are completed by a small team in a matter days.
Importantly, it provides excellent access for maintenance and inspection, self-cleaning capabilities at low flows, It is highly adaptable and can integrate flow control devices, chambers, sumps other adaptations specific to each project.
Projects size can vary from as little as 05 m3 to 20,000+ m3. We closely work with the specifying community & installers from concept development to final installation of the system, completely free of charge so take advantage of our expertise and see if we can provide the right solution for your project.
Reuse Tank/ Retention Tank:
Urban areas cover a tiny fraction of worlds land area, but account for >30% of the water consumed each year. To meet this demand, most towns and cities rely on importing large volumes of high-quality water (after treatment) from surrounding water sources such as rivers, groundwater and dams.
Urban water authorities world-wide manage water supply, stormwater drainage and wastewater disposal separately. This approach dates back to the 19th century, since then, the construction of urban water infrastructure in all cities has largely been based on this 'Separate System' approach.
Today, urban engineers and Town planners are beginning to evaluate alternatives to this 'Separate System' approach such as the Reuse of Stormwater. In recent times Rainwater recycling concept have made some water critical projects possible.
Rainsmart Solutions underground tanking system provides a perfect point source solution for this application, Stormwater collected from roofs, driveways and other impermeable surfaces, which can be filtered and stored underground in its Ellipse & Nero Tank Modules, the tank modules are wrapped in high strength PP or LDPE impermeable liners to avoid any water loss. The tank can be accessed, by using a surface pump, which can also act as an inspection or maintenance port.
Rainwater can be used for irrigation of landscaped area, fire protection, car washing, and or other industrial processes for thermal energy transfer, Rainwater can also be used for house hold usage with appropriate online carbon and UV filters.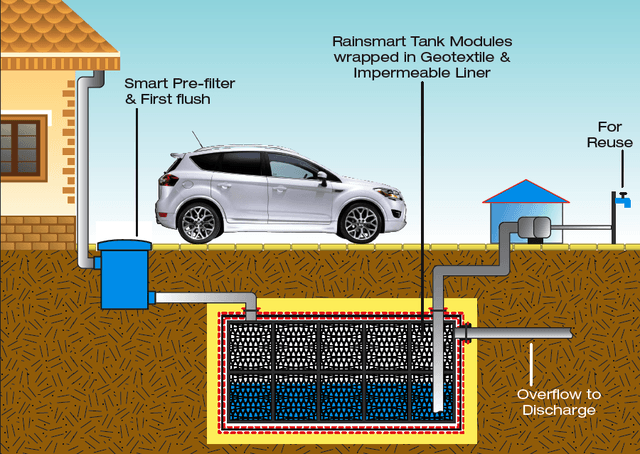 System Components: (Related Products)